Author Spotlight: Nick Valenzuela
This Christmas give the gift of reading - or stock up for yourself. The Christmas Gift + Hobby Show is excited to welcome 20 authors to the Indiana State Fairgrounds, including Nick Valenzuela. Can't wait to see Nick's at the show? Enjoy our brief interview with the "Lack Of Appeal" author below.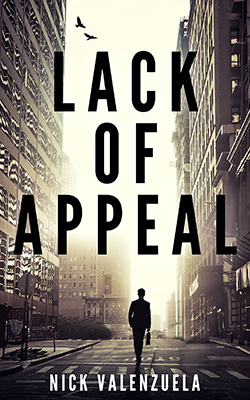 Please tell us about your book.
"Lack of Appeal, the barely-fictionalized autobiographical account of two as-they-happen days in the life of a municipal government civil rights complaint investigator, is now available in paperback on Amazon, eBook via Kindle! The novel moves moment-by-moment through one long Monday of housing discrimination Complainant and Respondent interviews, public presentation, complaint intake duty, and epic community meetings; then, in climax, one vigorous Friday attempt to take on perceived mayoral administration apathy towards systemic dysfunction of civil rights law enforcement needed for the public. Chapters detail contemporary, unique, and accessible takes on forms of sexual harassment, race, religion, national origin, families with minor children, and disability, modeled after real-life discrimination case examples. The public administration sector, the non-profit sector, and the central individual are all challenged with the nature of what many readily-accepted views of "civil rights" are, aren't, and may-be. And, the main character's potential personal bias with his own profession while he tries to be civil. Self-absorbed, personal memoir; objective (and objectified) expose on some civil rights, and "civil rights;" a descent into madness; and, with some lighter, humorous, and human touches along the way, this is a defining civil rights novel for the 21st Century."
What are your best tips for the holiday season?
"Check the weather, hourly, for travel out of town!"
What are your featured items this season?
"Lack of Appeal, my debut novel, is available in paperback for only $10 . . . and personalized signature in the book upon request. (That's 33% off the bookstore price, nothing extra for a signed copy!)"
What's your best holiday shopping advice?
"Don't overthink things: give the gift your instincts tell you to get and the recipient should be happy with the thought, even if not the product. Buy a few little things instead of looking to score the big purchase."
What's your favorite part about being in the Christmas Gift + Hobby Show?
"Talking with other Indiana authors about their works, and their personal stories. And, of course, meeting the general public and hearing all the different reasons why someone wants to read books or write their own stories."
What's your favorite Christmas movie?
"Lethal Weapon."
Is there anything else folks should know about you?
"I love to talk with the public about things they've personally experienced with the delicate subject matters covered in this novel, or how I can get prospective published authors in touch with the Indiana Writers Center."
Learn more about "Lack Of Appeal" when see Nick Valnzuela at the Christmas Gift + Hobby Show. Don't miss it! Get your ticket today.
Oct 25, 2019, 12:02 PM