Get In The Ringing Spirit
The Circle City Ringers are back by popular demand at the 2019 Christmas Gift + Hobby Show - and they'll be doing TWO performances this year! See them on Thursday, November 7 at 6pm and Saturday, November 9 at noon.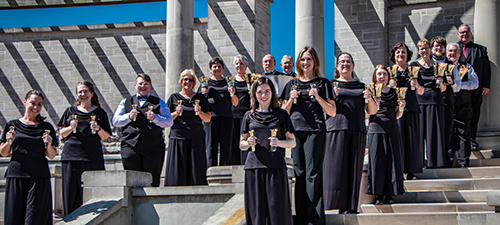 "We will be doing a few of our favorites from last season, such as 'The First Noel' and 'Sleigh Ride,' but we have also added a few new songs to our repertoire," said member Marcia Poisel. "We are excited to be adding 'The Man with the Bag,' 'We Need a Little Christmas,' 'God Rest Ye Merry Gentlemen' and 'Do You Hear What I Hear?"
The ringers will end their concert with the crowd favorite "Wizards in Winter."
"The Christmas Gift + Hobby Show has established itself as a staple in the community for the holiday season," Marcia said. "Many of our members enjoy visiting the show each year, so it was especially exciting to have been invited to the stage in 2018. That particular performance was one of our favorites last season. We were welcomed by vendors, organizers and patrons who really made the day memorable for us. The 'spirit of the holidays' was palpable when we were there, and we can't wait to experience the joyous and festive atmosphere again this year. We're honored to have been invited back in 2019, and we're excited to see everyone at the show!"
Marcia thinks handbells go hand-in-hand with the holidays - and handbells are certainly the specialty of the Circle City Ringers!
"We focus on having fun while we perform the highest-quality, advanced-level music," Marcia explained. "We commonly hear comments like, 'I've heard handbells before, but never like THAT!' We absolutely love what we do, and we want to share this art with as many people as we can. Our ringers have spent many hours in rehearsals preparing some beautiful music to put you in the holiday spirit — you won't be disappointed."
Come see the Circle City Ringers on the Holiday Entertainment Stage next week. Enjoy the sights and sounds of the season at the Christmas Gift + Hobby Show, November 6-10 at the Indiana State Fairgrounds.
Nov 5, 2019, 05:00 AM