Exhibitor Spotlight: Legacy Images
We're excited to welcome Legacy Images to the Christmas Gift + Hobby Show, November 6-10 at the Indiana State Fairgrounds. Before you visit this unique vendor in Booth #500, check out our brief Q&A with owner Paul Caitlin.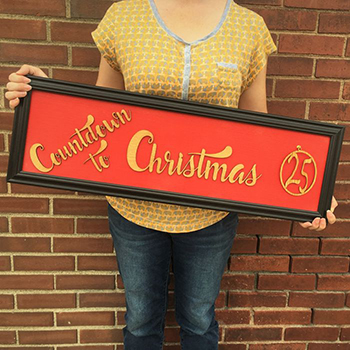 Please describe your products.
"We help you cherish life's moments by creating custom picture frames, ornaments, guest books and other decor items to commemorate those special people and moments."
What are your best tips for the holiday season?
"Have fun and make memories. Find out something special to do for or with each member of your family that would make this holiday season extra special."
What are your featured items this season?
"We have a brand new Countdown to Christmas sign. It comes with numbers 1-25 that you can change each day as you get closer to Santa's arrival."
What's your best holiday shopping advice?
"Start early! Shop local."
What's your favorite part about being in the Christmas Gift + Hobby Show?
"Meeting new people and helping spread the holiday cheer."
What's your favorite Christmas movie?
"So many good ones to choose from! It's hard to pick. It's A Wonderful Life would definitely be one of the top ones. It's got a great story and makes you feel good."
Is there anything else you think folks should know about your business?
"We just opened our new location at 516 S Main St in Sheridan, IN. We are excited to have a retail storefront. We gladly accept custom orders. They are some of the most fun and special things we make."
Don't miss your chance to shop hundreds of unique vendors, including Legacy Images. Buy your Christmas Gift + Hobby Show tickets today!
Nov 3, 2019, 13:54 PM