Exhibitor Spotlight: Mrs. Mason's Co.
Do you have someone with a sweet tooth on your Christmas list? Be sure to stop by Mrs. Mason's Co. at the Christmas Gift + Hobby Show. Located in Booth #250, this delicious vendor will be bringing award-winning treats to the Indiana State Fairgrounds. But don't take our word for it, see what owner Margaret Mason has to say in our fun Q&A below.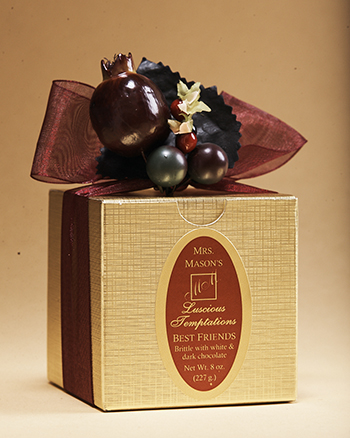 Please describe your products.
"We make handmade premium brittles and brittle bonbons, packaged in exquisite gift boxes. We were voted "Best of Detroit" by HOUR Magazine."
What are your best tips for the holiday season?
"Make your purchases early! Then, when the holidays are upon us, you can relax knowing you're all set!"
What are your featured items this season?
"We are bringing all four of our new flavors, as well as two new packaging options. In addition, we will be presenting our Brittle Bonbons for the first time! Very excited!"
What's your best holiday shopping advice?
"Shop early and buy what you love! Having your shopping done is a big plus once the holidays hits. By doing that, you can now relax! Also, Mrs. Mason's Premium Brittles are great for anyone who is hard to buy for. They're also great for hostess gifts, teacher gifts, gifts for your hairdresser and mailperson, and anyone else in your life! Stock up!"
What's your favorite part about being in the Christmas Gift + Hobby Show?
"Watching customers' reaction to our products! We hear a lot of, 'Oh my gosh', accompanied by chewing and pointing. The real bonus is when our customers "sell" our products to their friends and "show mates". 'You've GOT to taste the Chocolate Covered Cherry Brittle'...or whatever."
What's your favorite Christmas movie?
"Love Actually...I think that's a Christmas movie."
Is there anything else you think folks should know about your business?
"I had my business for ten years, then had to close due to extenuating circumstances. I closed for 13 years, then reopened two years ago. I received an absolute outpouring of love from my customers, stating they were SO excited that Mrs. Mason's was back! I'm THRILLED that Mrs. Mason's is back!"
The Christmas Gift + Hobby Show takes over the Indiana State Fairgrounds November 6-10. Don't miss your chance to shop hundreds of unique vendors, like Mrs. Mason's Co. Get your tickets today!
Oct 28, 2019, 12:22 PM