Festive Fun With LEGO Display
Oct 4, 2019, 18:27 PM
"Small town charm with big city bustle" is what Doug Davis plans to bring to this year's LEGO display at the Christmas Gift + Hobby Show.
Doug and the team from his custom LEGO creation company, It's a Block Party, are planning to build a large metropolis at the highest point of the display, a large open reservoir in the center, and down at the kids' eye level will be a small town, complete with Santa and the charm of yesteryear.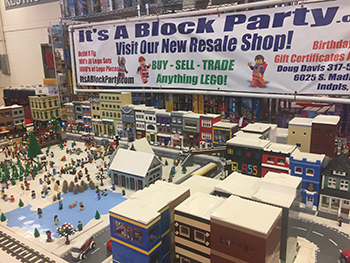 "Last year, we created a small village in the mountains," Doug said. "We had a ski lodge and winter activities with a steam engine taking town folks around. This year, we are working on a magical 'Harry Potter' train that makes its way through the big city - running up to the Hogwarts special stop at station Platform 9 3/4. We will have a very cool six-foot-long suspension bridge for the train to travel on over the reservoir. We also have some lake activities in the lowered reservoir in the center of town. We will have several big-city buildings that tower over the display and over the show attendees. We are adding lights and other features to the display we think the crowds will love. We will also provide a list of special hidden gems we hope people will enjoy looking for. Some will not be easy!"
Some of the creations are almost a year in the making - Doug began making some of the pieces soon after last year's Christmas Gift + Hobby Show ended. He estimates the total number of pieces being used in this year's display to be more than half a million. They are also inviting some of their club members to bring various creations that fit with the theme again this year, so there could be many more additional surprises to come.
"If anyone knows a fan of LEGO or is a fan themselves, they should come to our booth at the Christmas Gift + Hobby Show for sure," Davis said. "Hang out with us, and find all the hidden creations within the display. See parts from your childhood, and see the magic this display creates in the mind of a child or the kid within us all. We will have plenty of LEGO sets, mini-figures, parts and pieces this year to add to your collection. When you want to make something you've been dreaming of, you can build it!"
You can meet Doug and experience his LEGO creation at the upcoming 2019 Christmas Gift + Hobby Show from November 6-10 at the Indiana State Fairgrounds. The perfect start to your holiday season, in addition to festive displays and seasonal performances on our Holiday Entertainment Stage, guests will also be able to enjoy tons of shopping. Don't miss it!