Exhibitor Spotlight: ThugBusters LLC
Oct 22, 2018, 19:19 PM
We're excited to welcome ThugBusters LLC to the Christmas Gift + Hobby Show. ThugBusters LLC is a family owned business that aims to help Americans feel safe. ThugBusters provides personal safety products, like stun guns and tasers, pepper sprays, and more, a lifetime warranty, and expert advice. Connect with the ThugBusters team in in Booth #561 to see how they can help with your personal safety needs. But first, enjoy our brief interview with the ThugBusters team below.

Please describe your products and services.
"We are on a crusade to help keep people safe. Our primary products are stun guns (some call them tasers) , TASER brand products and pepper sprays. We will help you select the right product for your loved one. We explain the differences, features, benefits and how to use them. Listen for the zap! An overnight charge will typically last for 3 months or more. Our stun guns are not like cell phones that you have to charge every other day. After 3 months, take it out once a month or so and give it a zap. If it sounds "tired", plug it in for an hour or two and you're good to go. All of our products are backed by a lifetime warranty. We have had many suppliers approach us about carrying their products, but we only work with the few brands that truly stand behind the quality of their products."
What are your best tips for the holiday season?
"Please be aware of your surroundings, ESPECIALLY when you are walking out to your car with packages. Don't be a phone zombie - put it down so you can concentrate on what's going on around you. Carry a flashlight stun gun if it's dark."
What are your featured items this season?
"This year, we are introducing a new product called the "Escort". It is the most amazing self-defense flashlight we have ever seen. Because it is a flashlight, you can carry it ANYWHERE ! Our stun guns are holiday priced at $30 or 4/$100. Pepper sprays are $10 or 2/$15."
What's your best holiday shopping advice?
"Shop with a friend, not alone. Don't get overloaded with packages. Be alert walking in the parking lot. Let someone know when you expect to get home."
What's your favorite part about being in the Christmas Gift + Hobby Show?
"Starting out the holiday season, meeting new people, being able to offer a product that people can use to protect themselves. We exhibit in Indianapolis 4-5 times per year, and Indianapolis has made us the #1 vendor in our category. With that said, our first Christmas Gift and Hobby Show last year was our BEST SHOW EVER since we have been in business!"
What's your favorite Christmas movie?
"Be careful, you'll shoot your eye out!"
Is there anything else you think folks should know about your business?
"ThugBusters, LLC is a family-owned business that started in Waynesville, Ohio. The owners, Dan and Lise Neville, have a lot of friends who either work odd hours or in not-so-safe areas - teachers, nurses, servers, students, real estate agents and more - who have been afraid to walk to their cars. We have known victims of domestic violence, sexual assault, stalking and more. We decided to do something about that, and we are on a crusade."
The Christmas Gift + Hobby Show is filling the Indiana State Fairgrounds with hundreds of holiday vendors to help make your season merry and bright. Join us November 7-11 for festive fun and tons of shopping!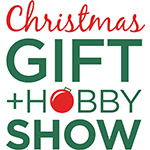 NOVEMBER 7-11, 2018.
INDIANA STATE FAIRGROUNDS