Ringing in the Season on the Holiday Entertainment Stage
Nov 8, 2017, 15:23 PM
As you walk around the Christmas Gift & Hobby Show, you'll hear heavenly voices and merry music bouncing off the walls. That jolly sound of the holiday spirit comes from the Holiday Entertainment Stage.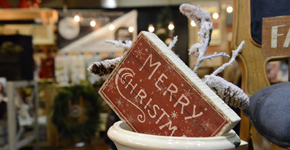 The entertainment here includes festive performances from magicians, local school choirs, singers, dancers and more! These performances are bound to put you in the holiday mood and provide fun for the whole family.
The entertainment acts include:
Lynhurst Giant Singers
Olivia & Devin
Ellie Buening
Circle City Dance
Edison School of Arts
Ladies of Dance
Still Kickin' Cloggers
Washington Park Senior Line Dancers
Midwest Belly Dancing Superstars
Indiana Adult Show Choir
Arlington High School Choir
Devin Feltman
Arsenal Technical High School
Indy Dazzlers
Dance Rhythms Ltd., Rhythm 'n' Motion Performing Arts Co.
Celtic Motion
Heartland Cloggers
Center Stage Academy
NRG Dance Co.
Dance Class Studio
Musicality Arts
T.B.A Indy
Francie Bond Gospel Music Ministries
Indy Dance Academy
A List Dance Center
Pink Slipper Dance School
Don't miss out! Be sure to stop by the Holiday Entertainment Stage and bask in the warmth and wonder of the holiday season.

The Christmas Gift + Hobby Show will be taking over the Indiana Stat Fairgrounds from November 8-12, 2017. Start the holiday season off right and check out the amazing show. Get your tickets NOW!

INDIANA STATE FAIRGROUNDS
NOVEMBER 8-12, 2017.